What we do
Seeing that the Health & Beauty Industry has evolved over the years, our only natural response is to create brands that support this growth. Developing advanced and refined products with a true added value and a memorable customer experience. Our focus is to excel in digitalisation and efficiency. Implementing this into our internal organisation and external strategy. We initiated this by building an interactive online platform, accessible for all B2B partners. Also creating an internal dynamic by establishing automated email processes and workflows. To accomplish our goals, we focus our core business on product development and distribution. Dividing our team into several Business units to accomplish a fluent and efficient workflow. Each with their own specialty and all working together coherently.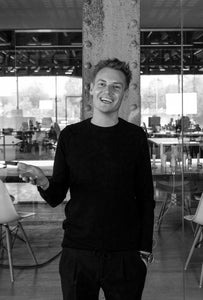 MEET THE FOUNDER
Our story begins with our founder, Dries Van De Walle. His passion for healthcare and product development led him to pursue a degree in biochemistry. Coming from a family of three generations of pharmacists, he has always been deeply invested in the world of health and well-being.
After starting his career at one of the leading players in the industry, Dries quickly discovered the lack of advanced and refined products with true added value. Driven by his scientific background he was determined to create a line of brands that not only provide the answer to an issue but also create a memorable customer experience.